Dona Rhea (3rd from left) and Ellen Andres (left) from the Delaware County Soil & Water Conservation District popped by our Mid Ohio Breakfast Club to share more details about their 2019 Farm Tour this Saturday, July 20th.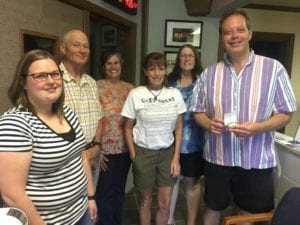 She was joined by Tim Sainey (second from left), owner of Soine Winery & Vineyard, one of the four stops on this year's tour. The Soine Vineyard is located along Clarke-Shaw Road, in between Sawmill Parkway and South Section Line Road.
In the picture below, Tim is holding a small sailboat made of four wine bottle corks that will be given to children who visit the winery during the Farm Tour.