Delaware County has seven high schools and we wanted to give you the breakdown of their schedules and the outcomes of their games. GO TEAMS!
We will be doing live announcing for the following games throughout the season.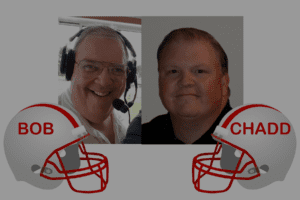 Play-by-Play Commentary by:
Bob Allen and Chadd Bartholomew 
MY929 2020  Delaware High School Football Broadcast Schedule
This fall tune to 92.9 FM , 1550 AM  or 1580 AM ,if you are in Columbus ; for all of your high school football action!   Great match-ups around Delaware County all season long!
All games start at 7pm except where noted. Pregame is always 60 minutes before the game
CONDENSED/REVISED DELAWARE COUNTY HSFB 2020 
NOTE: Schedule is subject to change due to ongoing COVID-19 Pandemic 
AUG 28 DELAWARE HAYES AT BIG WALNUT FINAL 14-6 Big Walnut wins
SEPT 4 DUBLIN COFFMAN AT OLENTANGY LIBERTY
SEPT 11 HILLIARD DARBY AT OLENTANGY BERLIN
SEPT 18 WHITEHALL AT BUCKEYE VALLEY
SEPT 25 BIG WALNUT AT WESTERVILLE NORTH
OCT 2 OLENTANGY LIBERTY AT OLENTANGY ORANGE
OCT 9 ###PLAYOFF GAMES
@@@all games begin at 7pm
###playoff games will be broadcast weekly until all teams have been eliminated. at that point, the season will be over.