Time for the Second Edition of the 92.9 WDLR Mid Ohio Breakfast Club's "Shelter-in-Place" Cookbook!
presented by Shelter Insurance Agent Alicia Maitland

As the "shelter-in-place" order went into effect, we asked all of our morning show on-air guests to contribute a recipe to our "Shelter in Place Cookbook." Here are a few more of their favorites. - Mark Bingaman
Cheeseburger Soup
Jay Wolf
Regional Marketing Manager
First Commonwealth Bank
"Here's the recipe for Cheeseburger Soup. It is low-cal, I promise, at least until you add the half a block of Velveeta cheese." - Jay
Serves: 2 ¼ quarts (8 servings)
½ Pound Ground Beef
¾ Cup Chopped Onions
¾ Cup Chopped Celery
¾ Cup Chopped Carrots
1 Tablespoon Dried Basil
1 Teaspoon Dried Parsley Flakes
4 Tablespoons Butter (divided)
3 Cups Chicken Broth
4 Cups Cubed Peeled Potatoes
¼ Cup All Purpose Flour
2 Cups Cubed Processed American Cheese
1 ½ Cups Milk
¾ Teaspoon Salt
½ Teaspoon Pepper
¼ Cup Sour Cream
Brown ground beef, drain and set aside. Sauté onions, carrots, celery, basil and parsley in 1 tablespoon of butter until vegetables are tender (approximately 10 minutes). Add broth, potatoes and beef and bring to boil. Reduce heat, cover and simmer for 10-12 minutes or until potatoes are tender. In a separate skillet, melt remaining butter, add flour, cook and stir for 3-5 minutes or until bubbly. Add to soup, bring to boil and cook for 2 minutes. Reduce heat. Add cheese, milk, salt and pepper. Cook and stir until the cheese melts. Remove from heat and blend in sour cream.

Eye of Round Roast

Shyra Eichhorn
Liberty Twp Trustee
Prepare roast with salt and pepper to taste in a pan.
Pre-heat oven to 500 degrees.
Turn oven down to 475 degrees and put roast in the oven for 21 minutes.  
After 21 minutes, turn oven off, do not open the door.  Leave roast in oven for 2 hours and fifteen minutes.  Remove from oven and enjoy!

Pam Spencer's Chicken and Noodles
Pam Spencer
Mid Ohio Breakfast Club
WDLR
"My homemade chicken and noodles to sooth the soul. Yum."
Two small or one large boneless chicken breasts and two boneless chicken thighs.
Chopped celery or celery seed. Small amount of chopped onion.
1 can of cream chicken soup and one can of chicken broth.
Package of Kluski style noodles (available at grocery stores, or buy in Amish country).
Place chicken and half can of chicken broth with celery and onion in a crock pot on high for two hours. (reserve other half of chicken broth for later in the recipe).
After chicken has cooked, shred chicken, add cream of chicken soup for another hour or two on low.
When ready to serve, cook half package of noodles on the stove with reserved other half of chicken broth for fifteen minutes. Mix and serve. Enjoy!
(If you wish to adjust this recipe, you can add more chicken and if you want to use the entire package of noodles, add more broth.)

Fran DeWine's Chicken and Noodles
Fran DeWine
First Lady
State of Ohio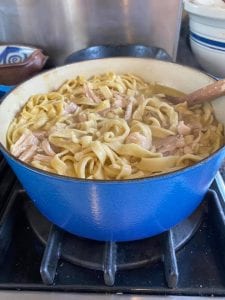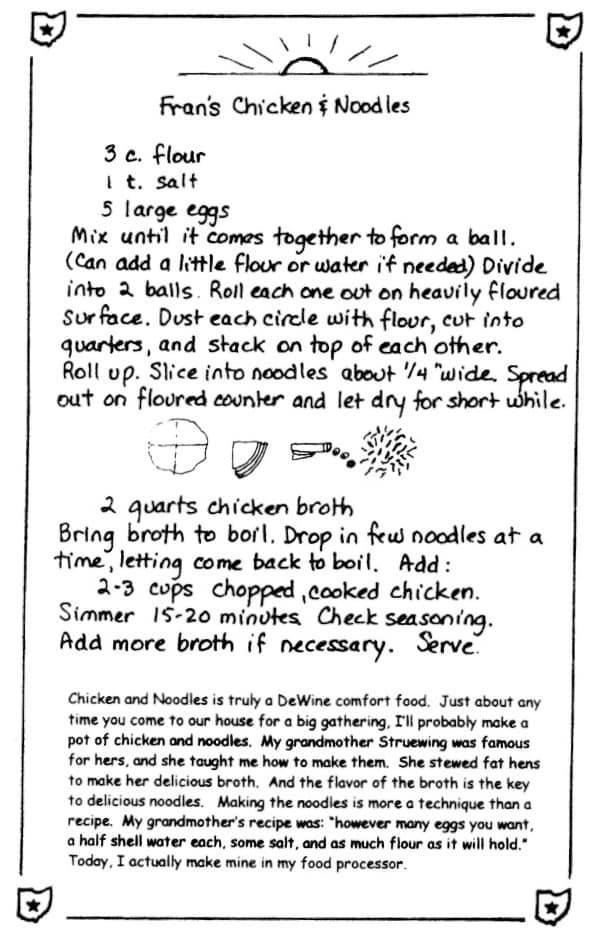 Part One of the Shelter-in-Place Cookbook